Owner operated,
Werth Roofing and Siding

provides you with reliable roofing services and professionally warrantied work. You've got endless choices when in it comes to roofers, so you want to make sure you hire the right team. You can rest easy knowing that we do exceptional work that is timely and affordable.
You'll never feel pressured to get more done than needed. It's important that you know what you need and just as important to know how it will get done. You'll get a complete written estimate and I will show you photos of the problems I seen while I was personally inspecting your roof, attic or siding.
New Roof Installation Siding Installation Gutter and Downspouts Removal of all Debris
A FamiIy run business for 45 years
Werth Roofing

and

Siding, Inc.
Norman C. Werth, Owner
Phone: (810) 736-5252
E-mail: Nwerth6006@charter.net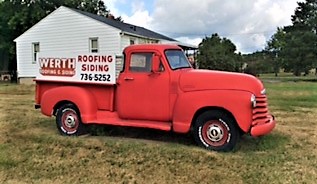 © Copyright .
All Rights Reserved
Werth Roofing and Siding
Serving all of Genesee County